Yummy Apple Gouda Grilled Cheese
Weekly Recipe: Yummy Apple Gouda Grilled Cheese
Grilled cheese sandwiches are an American staple.  It is a great warm treat that brings back memories of childhood.  Add some soup and you've got a great warm and flavorful fall meal. I came across this idea on Pinterest.  Apples are a common addition to a cheese tray as a complimentary flavor.  Why not try them together in a grilled cheese?
Gouda is a Dutch cheese known for its mild flavor and creamy texture.  It has a nutty flavor and a touch of sweetness.  It is one of the most popular cheeses worldwide.  Combine that with a Honeycrisp apple known for its juicy, sweet tart flavor and they mix well into a combination of flavors that is delightful!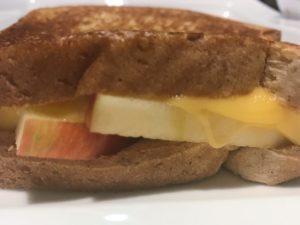 There is no recipe here, just add some gouda and thin sliced Honeycrisp apples to buttered bread and you are ready to go!  The result is a creamy and crunchy textured grilled cheese sandwich.  The flavors work well together.  With the creaminess offsetting some of the tartness of the apple.  The apple flavor still comes through, it is just mellowed a bit by the cheese and buttered bread.
This is a great take on a true fall classic.  You can also try it with Brie or Granny Smith apples!