Fundraiser for Devastating Five-Alarm Fire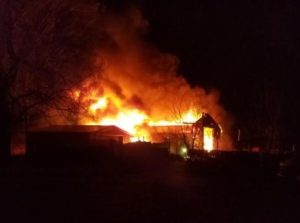 When you purchase a 5" Apple pie here at Apple Holler throughout the month of March, Apple Holler will donate 50% of the purchase to the Knapp Family Barn Fundraiser for Devastating Five-Alarm Fire.
Gail Knapp, a manager at Apple Holler, experienced a life-changing incident earlier this winter. On the early morning of December 5, a horrific fire started in the family's horse barn and two car garage. The gusty winds produced strong enough flames to make it five-alarm fire classification, which led to complete destruction of both buildings.
Firefighters rushed to the scene from Raymond, Wind Lake, Union Grove, Yorkville, Kansasville and South Shore to fight the overwhelming flames. It took five hours for the departments put the fire out.
It's a miracle that nobody was hurt and that the animals stayed safe, but the destruction is overwhelming. Between the repairs and equipment, an estimated $150,000 was lost, along with 27 years worth of memories.
"All of our children grew up here," Gail said. "They took the bits and pieces of horse equipment and tools from the barn and put the contents in a shadow box to remember forever."
Despite the devastation and heartbreak, Gail and her family are overwhelmed by the donations and support from people in the community. She was at a loss for words when she learned that Dave Flannery, owner of Apple Holler planned a month-long fundraiser for her family.
In March, 50% of all 5-inch apple pie sales will go towards the rebuild of the garage and barn. Gail said she can hardly wait to have the animals in their new home and knows it would not be possible without the kind-hearted people who offer their support.
"We always hear the bad going on in the news, but we have seen so much good throughout this difficult time," Gail said. "We can't thank people enough for reassuring us that we're going to be alright."
Apple Holler invites you to be part of this special fundraiser. You can enjoy a delicious apple pie and know it's making a difference for the Knapp family.   If you are unable to make it out to Apple Holler this month but would still like to help the Knapp family, a Gofundme account has been set up for the family.