Apple Holler has great early ripening all-purpose apples: Paula Red, Zestar! & Red Free
Apple Holler has great early ripening all-purpose apples: Paula Red, Zestar! & Red Free
In 1960 Lewis Arends, a Michigan farmer, discovered the first Paula Red tree near his orchard of McIntosh trees.  He named the variety after his wife Paula.  They officially hit the market in 1968.
Paula Red apples ripen in late summer and early fall.  These apples are red with yellow spots.  They taste sweeter than McIntosh but are still tart and juicy.  Paula red apples are good for eating and cooking.   They soften quickly when cooked making them an excellent choice for sauces & butters.  If using in pies it is best to mix in with firmer apples to achieve the right texture.
Zestar!TM were cultivated at the University of Minnesota in 1999 and are protected by a US Plant Patent.  The name was chosen based on their 'zesty' flavor.  With a crisp texture, Zestar!TM are both sweet & tart.  They are a red apple with some yellow & green.  Ripening in late August, these large apples are popular because they can be stored for up to 2 months.  They are good for eating, cooking, and for making caramel apples!  They brown quickly when cut but adding lemon will allow them to stay fresher longer.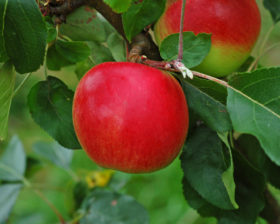 Red Free are a medium size apple with a shiny, bright red color over a majority of the fruit.  Crisp and juicy, the taste is a mild balance of tart and sweet.  Red Free are a great multi-purpose apple that works in baking, salads, and for fresh eating.  They keep well when stored properly.  The first Red Free seedling was planted at a breeding orchard in Indiana in 1966.  Red Free are known for being hearty and disease resistant.
Come check out these great varieties of apples at Apple Holler!